Grilled Orange Chicken Legs
Description
Grilled Orange Chicken Legs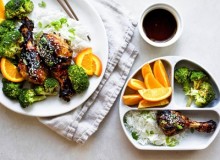 Ingredients
8
chicken legs (or sub thighs or breasts)
1⁄2 teaspoon
black pepper
1⁄4 cup
low sodium soy sauce (or sub coconut aminos)
1⁄2 cup
fresh orange juice
2 tablespoons
honey (or maple syrup)
2 tablespoons
green onions
Notes
Serve with steamed broccoli and jasmine rice.
***Note: If you don't have an outside grill, you can make these in a skillet or an indoor grill pan.
Instructions
Make glaze by combining soy sauce, orange juice, garlic, ginger, and honey into a saucepan and heat over medium heat until gently simmering.
Reduce heat and then whisk in corn starch and let sauce simmer for 5-10 minutes until slightly thickened and turn off heat.
Preheat grill to medium high heat, about 375-400 degrees.
Season chicken legs with salt and pepper on both sides and then place onto grill and cook for about 30-35 minutes total, flipping every 5-7 minutes with the lid down. Internal temperature should read 165 degrees when chicken is cooked though.
When the chicken legs are almost cooked through, brush the glaze over top and cook for one minute before flipping and repeating on the second side.
Remove from grill and serve alongside jasmine rice and broccoli and garnish with sesame seeds and green onions if desired.
Drizzle extra sauce on top. 
Yields 6 Servings