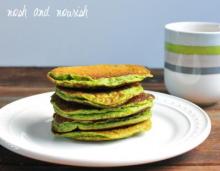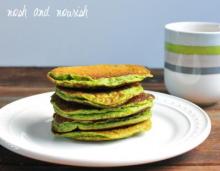 Description
Green Smoothie Pancakes // via Nosh and Nourish
Ingredients
3⁄4 cups Silk Unsweetened Cashewmilk
1 tablespoon Peanut Butter
Notes
I like and use Bob's Redmill GF Pancake Mix the most often. I also like the Flapjacked' protein pancake mix a lot.
Instructions
Combine all the ingredients except the pancake mix in a large measuring cup.
Use an immersion blender to puree the spinach, banana, peanut butter, etc... until smooth.
Stir in the pancake mix.
In a large pan, over medium-low heat, pour the batter into small 3 - 4 inch circles.
When the pancakes start bubbling a bit and the bottom is lightly browned, flip them over.
Continue cooking for a minute or two on the other side.
Serve warm with syrup!
Yields 9 Pancakes