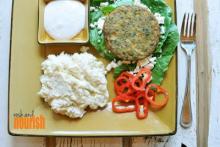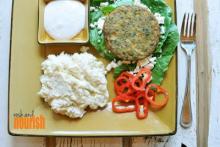 Description
Greek Mashed Cauliflower // @noshandnourish
Ingredients
1⁄2 cup Cottage Cheese (I used 2%)
1⁄4 cup Plain Chobani greek yogurt
1⁄4 cup Feta Cheese Crumbles
2 tablespoons Cucumber Ranch Salad Dressing (I used Kraft)
Instructions
Preheat oven to 400 degrees.
Cut the cauliflower into smaller chunks (approx. 2 inch pieces).
Roast in the oven for 45 minutes, or until softened.
Mash the cauliflower using either an immersion blender or a hand masher.
Stir in butter, cucumber ranch, cottage cheese, Chobani, and feta.
Continue to mash until the desired consistency.
Enjoy!!
Yields 4 Servings