Greek Chicken Wraps with Avocado Tzatziki
Description
Greek Chicken Wraps with Avo Tzatziki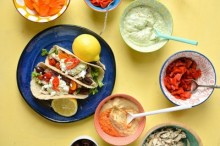 Ingredients
1
rotisserie chicken (shredded)
1⁄2 tablespoon
Greek seasoning
3⁄4 cups
garlic hummus (for topping)
1⁄2 cup
chopped roasted red peppers (for topping*)
1⁄3 cup
chopped peppadew peppers (for topping*)
1⁄3 cup
kalamata olives (pitted and sliced*)
1⁄2 cup
sliced grape tomatoes
1⁄2 cup
crumbled feta (for topping)
2 cups
chopped green leaf lettuce (for topping)
16
small tortillas or wraps (of choice)
Notes
* A lot of the items can be purchased from the olive bar at the grocery store: olives, peppadews, and roasted red peppers!
Instructions
Prepare all of your toppings in little bowls --- so that once the chicken is cooked, you can make your wraps. 
Shred a rotisserie chicken --- or buy 2 pounds of chicken breasts and cook ahead of time. 
Then, add the chicken and olive oil and greek seasoning to a large skillet over medium heat. 
Stir and warm up for approximately 5 - 7 minutes.
Then, assemble your wraps! I like to do: a handful of lettuce, a couple spoonfuls of chicken, and then a little of everything else: hummus, red pepper, peppadew, tomatoes, olives, feta, and a big dollop of avocado tzatziki!
Yields 8 Servings