Grain-Free Triple Chocolate Cupcakes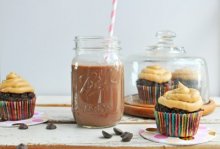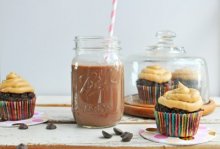 Description
Grain-Free Triple Chocolate Cupcakes with Creamy PB Frosting // via Nosh and Nourish
Ingredients
1 cup Finely Shredded Zucchini (I peeled it first)
1⁄2 cup Silk Chocolate Cashewmilk
6 tablespoons Unsweetened Cocoa Powder
1⁄2 tablespoon Baking Powder
1 cup Dark Chocolate chips
3⁄4 cups Greek Yogurt (for the frosting)
3⁄4 cups Peanut Butter (for the frosting)
1 1⁄2 cup Powdered Sugar (for the frosting)
Instructions
Preheat the oven to 375 degrees. 
Combine the wet ingredients in a large mixing bowl: zucchini, eggs, cashewmilk, and coconut sugar. Stir until thoroughly combined.
Stir in the dry ingredients: cocoa powder, baking powder, coconut flour, and chocolate chips. Stir until just combined.
Use non-stick spray or coconut oil to coat a muffin tin. Spoon batter evenly, filling each cup to the top. 
Bake for 30 minutes. Then, take them out to cool.
Meanwhile, combine the frosting ingredients in a medium mixing bowl: greek yogurt, peanut butter, and powdered sugar. Use a hand mixer to mix until smooth. 
Adorn the cupcakes with the frosting.
Yields 12 Cupcakes