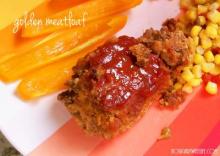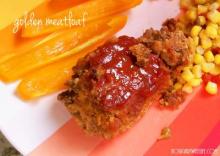 Description
Golden Meatloaf: made with golden beets and cornbread crumbs || No Sugar Sweet Life
Ingredients
1 pound Lean Ground Beef (or sub ground turkey)
1 cup Dried Cornbread Crumbs (or sub regular breadcrumbs)
1 Golden beet (peeled, roasted, & diced)
1 tablespoon Minced Garlic
1 tablespoon Worcestershire Sauce
1⁄2 can Campbell's Tomato Soup (or sub tomato paste)
1⁄2 cup Ketchup (for glaze)
1 teaspoon Cumin (for glaze)
1 tablespoon honey (for glaze)
Instructions
Preheat oven to 400 degrees.
Roast golden beet (sliced/flat) for 45 minutes, then dice.  (Can do this step ahead of time and refrigerate the roasted/softened beets)
Mix together all non-glaze ingredients.
Form a loaf with your hands.
Place the meatloaf onto a baking sheet.
Mix the glaze ingredients together, and spoon it on top of the meatloaf.
Bake at 400 degrees for 45 minutes.
Yields 6 Servings