Gnocchi with Easy Romesco Sauce (Vegan-optional)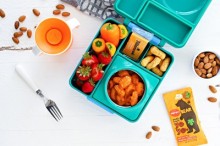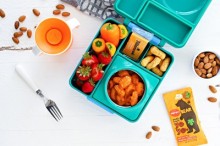 Description
Gnocchi with Easy Romesco Sauce -- a super quick, weeknight meal that comes together in minutes thanks to store-bought gnocchi and a 5-minute romesco sauce made super savory with white miso and rice vinegar.
Ingredients
1 package gnocchi (about 17oz)
1 1⁄2 cup jarred roasted red peppers (drained)
1⁄2 cup raw almonds, toasted (*see note below)
1⁄2 cup extra-virgin olive oil
2 tablespoons tomato paste
2 tablespoons rice wine vinegar
1 clove Garlic (peeled and smashed)
small handful flat-leaf parsley (plus more for serving)
1 teaspoon smoked paprika
1⁄4 teaspoon sea salt or Himalayan pink salt
fresh ground black pepper
grated pecorino romano (for serving, omit if vegan)
Notes
By Emily Stoffel (adapted from Bon Appetit)
*To toast the almonds, heat them in a small, dry skillet over medium-high heat, tossing frequently, until they take on a little color and smell just toasty. Remove from the pan immediately.
Instructions
Cook gnocchi according to package directions in plenty of salted water. Drain, reserving about ½ cup pasta water.
While gnocchi cooks, combine peppers, garlic, parsley, almonds, tomato paste, vinegar, white miso, paprika, salt + pepper in a high speed blender and blend until almost completely smooth.
Toss hot gnocchi with romesco sauce (you may not use all the sauce; any leftovers are excellent slathered on a thick slab of toasted bread), thinning with a splash of the pasta cooking water, if desired. Garnish with plenty of pecorino, to taste (if using), and parsley. Enjoy!
Yields 3 Servings