Gluten-free Spice Muffins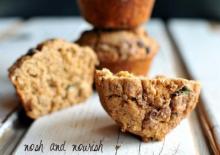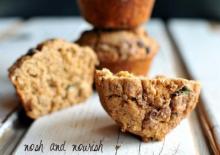 Description
Gluten-free Spice Muffins w/a dark chocolate streusel topping // @noshandnourish
Ingredients
1⁄2 cup Chickpeas (mashed)
1⁄2 cup Peach Greek Yogurt (I used Chobani "Flip")
2 cups Brown Rice Flour (or sub your favorite flour)
Toppings from Flip (1 tbsp dark chocolate chips + 1/2 tbsp pistachios)
1 tablespoon Butter (melted - for streusel)
1 tablespoon Coconut Sugar (for streusel)
1 tablespoon Brown Rice Flour (for streusel)
Instructions
Preheat oven to 375 degrees.
Mash banana and chickpeas (I microwaved my chickpeas for 1 min to soften them before mashing).
Add in remaining muffin ingredients: yogurt, vanilla, coconut sugar, honey, egg whites, cinnamon, flour, baking powder, & baking soda. Mix thoroughly.
Spray a muffin tin with non-stick spray, or use butter/flour to coat the insides.
Pour batter evenly into the muffin tin (mine made 10 muffins).
Mix together the streusel toppings (double if you want a lot of streusel on each muffin): Toppings from "Flip", 1 tbsp butter, 1 tbsp coconut sugar, 1 tbsp brown rice flour.
Press a small spoonful of streusel onto each muffin.
Bake for 20 minutes.
Remove from oven and let cool for ~5 minutes before devouring.
Yields 10 Muffins