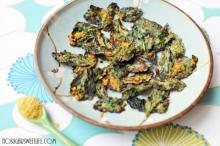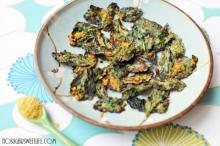 Description
Garlic Kale Chips: Eat your greens!
Ingredients
4 cups Kale (cut into chunks)
2 tablespoons Minced Garlic
2 tablespoons Nutritional Yeast
1 teaspoon Montreal Chicken Seasoning (could sub garlic powder and salt/pepper)
Instructions
Preheat oven to 350 degrees
Remove stems off kale, and cut leaves into chunks
Toss kale in olive oil and minced garlic
Mix nutritional yeast and montreal chicken seasoning in a small bowl
Sprinkle dry mix over coated kale
Lay flat on a baking sheet
Bake for 12 minutes
Take out of oven and let cool / crispify for an additional 10 minutes.
Diggeth, inneth.
Yields 2 Servings