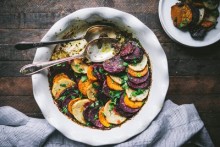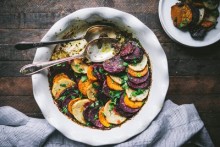 Description
Fall Spiral Vegetable Bake
Ingredients
salt and pepper (to taste)
Instructions
Preheat oven to 350 F.
Wash potatoes and beets well. You can peel or leave skin on. Using a mandoline, slice each potato to about ⅛" thickness.
Spread pesto on bottom of a 9-inch pie pan. Layer vegetables in a spiral, then brush with olive oil and sprinkle with salt and pepper.
Roast for 40-45 minutes, or until vegetables are completely tender and slightly crispy around the edges.
Serve with fresh herbs and more pesto (optional).
Yields 8 Servings