{Orange Glazed Carrots}
---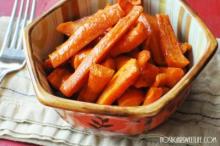 Instructions
Preheat oven to 375 degrees.
Peel & Cut carrots into 3 inch pieces, then cut each piece lengthwise in half.
In a small bowl, mix together the oj, honey, & cinnamon.
Place carrots in a baking dish.
Pour oj mixture on top.
Slice butter into chunks and spread over the top.
Bake for one hour, stirring about halfway through.