Easy Yogurt Breakfast Bowls with Apples and Dragonfruit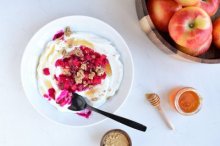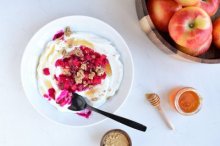 Description
apple yogurt bowls | dragonfruit breakfast recipes
Ingredients
1 Superfresh Honeycrisp Apple (diced)
2 ounces Dragonfruit puree*
1⁄8 teaspoon Ground Ginger
24 ounces Siggi's plain yogurt (I like the 4% milkfat variety best --- or sub Silk's non-dairy yogurt)
1⁄4 cup crunchy granola (I like the Purely Elizabeth ancient grains' varieties)
Notes
*I like buying the dragonfruit / pitaya smoothie packs from Whole Foods in the frozen fruit section. It looks like this. They come in 4 ounce packs, so for this recipe you just use half. 
Instructions
In a medium saucepan over medium heat, combine the apples, dragonfruit puree, water, and ground ginger. Stir frequently for about 5 minutes until apples are softened. 
Assemble your yogurt bowl: 8oz of plain yogurt, a large spoonful of the apple mixture, a drizzle of honey, and some crunchy granola. 
Enjoy!
Yields 3 Servings