Easy Veggie-Loaded Breakfast Casserole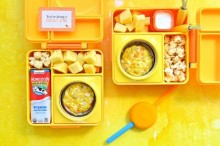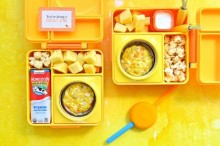 Description
Easy Veggie-Loaded Breakfast Casserole
Ingredients
1⁄2 pound Sprouts bulk breakfast chicken sausage
1⁄2 cup sweet corn kernels
1⁄2 a bell pepper (diced)
1 cup Horizon Organic Mexican-style shredded cheese
1⁄2 cup Horizon Organic Milk
1⁄4 teaspoon ground mustard
Notes
You can bake this in a 13x9 pan OR in 6 -8 individual ramekin dishes.
Instructions
Preheat oven to 350 degrees.
Over medium heat, saute the chicken sausage and garlic until slightly browned, approximately 5 minutes.
In a large mixing bowl, combine diced cauliflower, corn, bell pepper, tomatoes, cheese, and cooked chicken sausge.
In a separate bowl, combine: eggs, milk + spices. Whisk until combined.
In a greased 13 x 9 pan, lay out the bread in a single layer. Then, spread on the veggie + cheese mixture evenly over bread. Then, pour on the egg mixture.
Bake for 30-35 minutes until eggs are completely baked / cooked and no longer jiggle at all.
Serve hot.
Yields 8 Servings