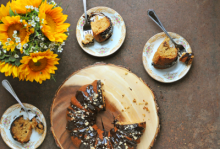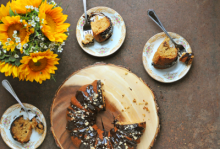 Description
Easy Olive Oil Cake (GF) // via Nosh and Nourish
Ingredients
2 cups Bob's Red Mill 1:1 Gluten-free Baking Flour (or sub Bob's whole wheat pastry flour)
2 teaspoons Baking Powder
1⁄2 teaspoon Iodized Sea Salt
3⁄4 cups extra virgin olive oil
1 teaspoon Vanilla Extract
1⁄2 cup unsweetened cashewmilk (or sub almondmilk )
3⁄4 cups dairy-free mini chocolate chips
3 tablespoons chocolate cashewmilk (or sub almondmilk)
1⁄2 tablespoon Coconut Oil
1⁄4 cup Coarsely Chopped Walnuts
Instructions
Preheat the oven to 350 degrees.
Get out 3 mixing bowls (at least it's not 6!).
In the largest mixing bowl, combine the dry ingredients: flour, baking powder, and sea salt. Stir and then set aside. 
In a smaller mixing bowl, mash the banana and then add in the olive oil, vanilla, and cashewmilk. Stir and then set aside. 
In a third bowl, combine the eggs and coconut sugar. Using a hand mixer, mix on medium-high for 2 - 3 minutes. 
Then, pour the egg mixture into the banana mixture. Stir. Then, pour the wet mixture into the dry mixture and stir until just combined. Do not overstir. 
Pour the batter into a greased bundt pan, then bake for 45 minutes. 
Once the cake is finished, let it cool on the counter for 20 minutes. Then, flip it over onto a parchment lined cake plate.
Combine the chocolate chips, chocolate cashewmilk and coconut oil in a small saucepan over low heat. Stir continually until melted. Then use a spoon to drizzle it over the cake. Then, sprinkle on the crushed walnuts. 
Yields 8 Servings