Easy Fish Tacos with Peach Cherry Salsa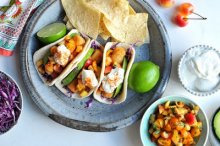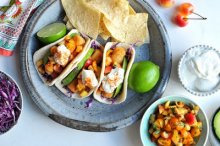 Description
Easy Fish Tacos | Recipes using fish sticks | Peach Cherry Salsa | Easy fruit salsa | summer fruit salsa
Ingredients
1 donut peach (optional, or sub in 1/2 of a another regular peach)
8 Rainier cherries (pitted and diced)
8 golden grape tomatoes (or sub red)
1 handful of cilantro (coarsely chopped)
1 teaspoon malt vinegar (or sub apple cider vinegar)
1 chipotle pepper in adobo sauce (chopped, or sub 1 jalepeno)
10 1⁄5 ounces Dr. Praeger's Lightly Breaded Fish Sticks (~10 or 11 sticks)
10 small street taco sized tortillas (for serving)
1 cup chopped purple cabbage (for serving)
1 Avocado (sliced, for serving)
5 ounces Plain greek yogurt (for serving)
1⁄2 tablespoon chile lime salt (for serving)
Instructions
Preheat the oven to 450 degrees. 
In a medium mixing bowl, combine the salsa ingredients (peach through chipotle pepper). Stir until thoroughly combined. 
On a parchment lined baking sheet, lay the fish sticks flat in a single layer. 
Bake for 11 minutes, then flip the fish sticks with tongs. 
Bake for an additional 8 minutes. 
Remove from the oven and assemble your tacos: street taco tortilla, one slice of avocado, a couple spoonfuls of chopped purple cabbage, one fish stick, a spoonful of peach cherry salsa, a dollop of Greek yogurt, and a sprinkle of chile lime salt. 
Enjoy!
Yields 5 Servings