Double Chocolate Brownies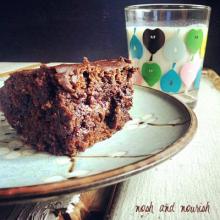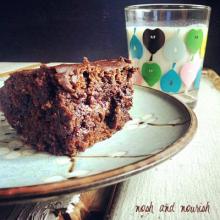 Description
Nourishing Double Chocolate Brownies // @noshandnourish
Ingredients
1⁄2 cup Plain greek yogurt
5 tablespoons Cocoa Powder
1 cup Almond Milk (or sub regular milk)
2 cups Whole Wheat Pastry Flour
1 cup Dark Chocolate chips
Instructions
Preheat oven to 350 degrees.
Mix totgether the chickpeas and almond milk in a medium mixing bowl. Blend with an immersion blender so that the chickpeas are blended and not lumpy.
Add in the remaining ingredients.
Rub butter on a 9 x 9 baking dish, then dust with cocoa powder.
Pour in batter.
Bake for 30 minutes.
Serve with milk (optional).
Yields 9 Brownies