Description
Dairy-Free Muddy Buddies with Coconut and Pistachios -- the perfect holiday dessert! // via Nosh and Nourish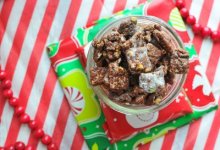 Ingredients
1⁄3 cup
Pistachios (crushed)
1⁄3 cup
unsweetened coconut flakes
1⁄2 cup
dairy-free chocolate chips (or sub regular)
1⁄8 cup
Silk Chocolate Cashewmilk
Instructions
Crush pistachios and unsweetened coconut flakes in a large sealed ziploc bag with the flat side of a meat tenderizer (or finely chopping with a knife would work too). Transfer to a fresh bag and add in powdered sugar. Then, set aside.
Put chocolate chex into a large mixing bowl. 
In a large measurng cup, combine chocolate chips, coconut oil, peanut butter, and cashewmilk. 
Microwave on high 30 seconds at a time, stirring in between each 30 second interval, until completely melted. (It took about 90 seconds for me). 
Pour the melted chocolate mixture over the chocolate chex in the large mixing bowl. Stir until all pieces of cereal are evenly coated. 
Spoon the chocolate covered cereal into the large ziploc bag with the powdered sugar mixture. Seal it. Then, shake it all up until everything is evenly coated with the powder. 
On a parchment lined cookie sheet, pour out the muddy buddies into a single layer and let them cool/dry for approximately 20 minutes before eating/serving. 
Yields 12 Servings