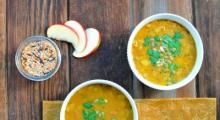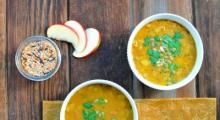 Description
Curry Pumpkin Chowder // via Nosh and Nourish
Ingredients
2 large carrots (peeled and thinly sliced)
1 yellow bell pepper (diced)
1 tablespoon Minced Garlic
1 tablespoon dried onions
1 tablespoon Montreal Chicken Seasoning
32 ounces vegetable broth (or sub chicken broth, but then it won't be vegetarian)
2 cups Silk Almond/Coconut Blend (or sub canned coconut milk)
15 ounces organic pumpkin puree (one can)
2 cups Cascadian Farm Winter Squash Puree (or sub 2 cups cubed butternut squash)
1 tablespoon Dark Amber Maple Syrup
2 cups rice & lentil mix (dry)
Instructions
In a large stockpot over medium high heat, melt coconut oil. Then add carrots, apple, bell pepper, garlic, Montreal chicken seasoning, and dried onions. Saute for approximately 5 minutes, until carrots are slightly softened.
Then add in all other ingredients.
Simmer for 30 - 40 minutes until rice and lentils are fully cooked.
Enjoy!
Yields 6 Servings