Crispy Honey Chipotle Shrimp Tacos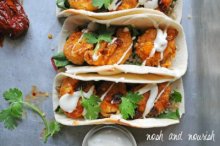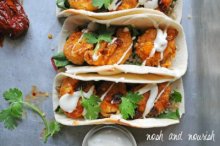 Description
Crispy Honey Chipotle Shrimp Tacos -- one of our favorite meals! // via Nosh and Nourish
Ingredients
20 ounces medium shrimp (tails off, de-veined, and thawed)
1⁄2 cup quinoa flour (or sub almond flour)
2 tablespoons melted butter
1 1⁄2 tablespoon Old Bay seasoning
4 tablespoons diced chipotle peppers in adobo sauce
4 tablespoons diced oranges (or clementines)
2 cups shredded greens (I used rainbow chard)
1 cup cooked quinoa/lentil blend*
2 tablespoons Ranch Dressing (optional - to drizzle on top)
2 tablespoons cilantro (optional)
8 small taco-sized tortillas
Notes
*Ahead of time, I cook quinoa and lentils together in my rice cooker! What's worked best for me is: Combine 2 cups dry quinoa, 3/4 cup dry green lentils, 32 ounces chicken broth, and 1 cup water in a rice cooker. Press "Cook" and about 20 minutes later, you have perfectly cooked quinoa and lentils!
Instructions
Preheat oven to 400 degrees and prepare a baking sheet with parchment paper or foil.
Prepare 3 small mixing bowls -- one with quinoa flour, one with the eggs and melted butter mixed together, and one with the almond flour, sea salt, pepper, and Old Bay seasoning.
Roll the thawed shrimp in the quinoa flour until completely coated/dry. Then, dip the shrimp into the egg mixture and let it drip so the excess comes off. Then, dunk it into the almond flour mixture making sure to completely coat all sides.
Lay the shrimp in a single layer on the prepared baking sheet.
Bake for 16 minutes, or until crispy and golden brown, flipping the shrimp halfway through the baking time.
Meanwhile, combine your sauce ingredients in a small mixing bowl. If you want to make some a little more kid-friendly, omit the chipotle peppers.
Once the shrimp is done baking, put them in a large mixing bowl and stir in 1/2 to 3/4s of the honey chipotle sauce until evenly coated.
Assemble your tacos immediately thereafter: tortilla, greens, a spoonful or two of the quinoa/lentil blend, honey chipotle shrimp, and top with a drizzle of ranch and some cilantro. You could also add sliced avocado if you want!
Yields 4 Servings