Crispy Green Bean Fries w/Maple Dijon Dipping Sauce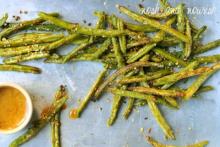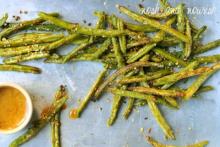 Description
Crispy Green Bean Fries with a Maple Dijon Dipping Sauce -- the best and yummiest way to eat your veggies!! // via Nosh and Nourish
Ingredients
3 cups Green Beans (I used frozen organic)
2 tablespoons Nutritional Yeast (also known as "nooch")
1⁄2 teaspoon black pepper
1 tablespoon spicy dijon mustard (for the dipping sauce)
1 tablespoon Dark Amber Maple Syrup (for the dipping sauce)
1 teaspoon coconut aminos (or sub soy sauce, if not strictly paleo)
Instructions
Preheat the oven to 425 degrees.
In a microwave-safe dish, add the green beans and cover with water. Microwave on high for 3 minutes.  Then, drain the green beans. 
In a large mixing bowl, coat the green beans with olive oil. 
Lay the coated grean beans in a single layer on a large baking sheet.
In a small bowl, mix together the hemp seeds, nooch, sea salt, and pepper. 
Sprinkle the spice mixture over the green beans evenly. 
Bake for 20 minutes, or until golden brown and crispy (but not burnt).
Combine the sauce ingredients in a small bowl: mustard, maple syrup, and coconut aminos. 
Dip the fries in the sauce and enjoy!
Yields 4 Servings