Creamy Tomato Soup and Easy Cheesy Drop Biscuits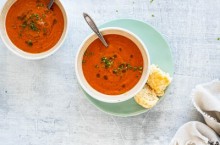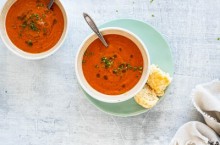 Description
Creamy Tomato Soup with Easy Cheesy Drop Biscuits -- this classic vegetarian meal makes the most of just a handful of pantry ingredients and makes a perfect lunch to enjoy at home or packed up for work or school.
Ingredients
1⁄2 tablespoon Baking Powder
1 cup cheese (plus more for topping)
2 tablespoons chopped herbs of choice (heaping)
2 medium to large zucchinis (diced)
28 ounces Marinara Sauce (of choice)
Instructions
FOR THE BISCUITS:  Preheat oven to 400F. Line a rimmed baking sheet with parchment paper.
In a large bowl, stir together flour, baking powder and salt. Add milk and stir until batter comes together into a craggy dough, then fold in cheese and herbs. Drop by heaping spoonfuls onto prepared baking sheet to make 6 biscuits. Generously sprinkle the tops of each biscuit with more cheese. Bake 20-25 mins or until puffed and cheese is golden-brown, rotating tray halfway through.
FOR THE SOUP: Heat a soup pot or large Dutch oven over medium-high heat. Add olive oil, then add diced zucchini, salt and pepper to taste. Saute, stirring occasionally, until zucchini is browned in places. Add marinara sauce and water and bring to a bubble; reduce heat, cover and simmer until zucchini are very tender, 5-10 mins. Using an immersion blender (or transferring in batches to a blender), blend soup until mostly smooth. Taste and adjust salt and pepper, as needed. Serve soup garnished with a drizzle of oil and chopped herbs of choice. Enjoy!
Yields 4 Servings