Creamy Spring Greens Soup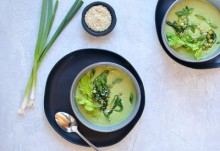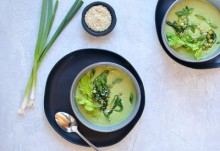 Description
Creamy Spring Greens Soup
Ingredients
3 cups Sprouts' 50/50 Blend Spring Greens
1 1⁄4 cup Peas (frozen, but thawed)
1⁄2 tablespoon Minced Garlic
1⁄2 tablespoon toasted sesame oil
1 cup Silk unsweetened almondmilk
2 tablespoons Sprouts' unsalted tahini
1 tablespoon Sprouts' Grade A Maple Syrup
1⁄2 tablespoon rice vinegar
1 teaspoon Sprouts' sesame seeds
celery leaves (for garnish, optional)
Instructions
Preheat oven to 425 degrees.
Chop 2 yellow potatoes and 2 ribs celery into approximately 1 inch pieces.
Lay the chopped pieces onto a parchment-lined baking sheet in a single layer.
Brush on 1 Tbsp olive oil and sprinkle with salt and pepper.
Roast for 20 minutes, until potatoes are softened and celery is lightly browned.
Meanwhile, in a skillet over medium heat, warm up ½ Tbsp sesame oil and ½ Tbsp garlic.
Then stir in 3 cups Sprouts greens. Stir frequently for about 4 minutes.
Add peas to the wilted greens and stir for another minute or two. Reserve 2 Tbsp to garnish the soup in a small bowl. Add the rest to a high speed blender.
In the high speed blender, also add 1 cup almondmilk, 2 Tbsp tahini, 1 Tbsp maple syrup, ½ Tbsp rice vinegar, juice from ½ a lemon, 1 cup veggie broth, ½ tsp sea salt, and all of the roasted potatoes and celery.
Blend on high until smooth.
Serve hot, immediately. Garnish with the reserved peas + greens, extra celery leaves, and sesame seeds.
Yields 3 Servings