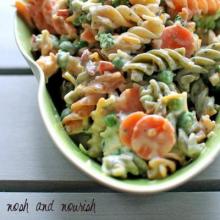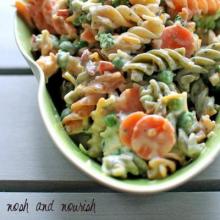 Description
Creamy Pasta Salad w/a honey yogurt ranch dressing // via Nosh and Nourish
Ingredients
6 ounces Pasta (I prefer shells, but you can use whatever you'd like)
3⁄4 cups Broccoli (blanched - cooked 1 min in boiling water)
6 slices Bacon (crumbled)
1 cup Cheddar Cheese (shredded)
1⁄2 cup Carrots (thinly sliced)
1 1⁄2 cup Greek Yogurt (plain)
1 package Organic Dry Ranch Dip Mix (I used Simply Organic b/c the ingredient list is so much better!)
Instructions
Boil pasta... approximately 8 min, until cooked through.
Drain, then cool pasta in the fridge.
Blanche broccoli, then dice.
Combine broccoli, peas, crumbled bacon, cheese, and carrots in a medium mixing bowl.
Stir in cooled pasta.
In a separate small bowl, create the dressing by combining the dry ranch packet with the yogurt.
Slowly add in the yogurt ranch sauce into the pasta mixture...until desired creaminess. (I used about 2/3 of the dressing mixture)
Serve cold.
Yields 8 Servings