Creamy Lemon Potato Bisque with Carrot Top Pesto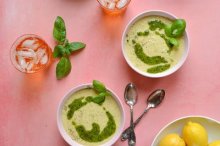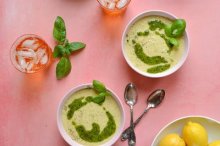 Description
Creamy Lemon Potato Bisque with Carrot Top Pesto
Ingredients
1 medium russet potato (peeled then sliced)
4 white or yellow carrots (sliced --- you can sub orange carrots, but the color of the soup will change!)
1 cup Silk's Unsweetened Protein Nut Milk
2 1⁄2 cups veggie (no-chicken) broth
1⁄2 teaspoon lemon pepper (I love Simply Organic's because it doesn't have dye)
1 cup carrot top pesto* (recipe below)
Instructions
Preheat the oven to 425 degrees. 
On a parchment lined baking sheet, lay out the potato, zucchini, and carrot pieces in a single layer. 
Brush on olive oil. 
Roast for 25 minutes, until softened and lightly browned. 
In a high speed blender, combine roasted veggies, nut milk, veggie broth, lemon juice, and spices. Blend on high until pureed. 
Pour into bowls, then swirl on 1/4 cup of pesto into each. Serve hot.
Yields 4 Servings