Creamy Carrot Ginger Cashew Soup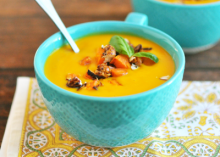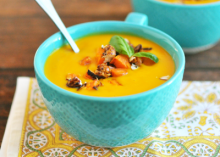 Description
Creamy Carrot Ginger Cashew Soup // via Nosh and Nourish
Ingredients
1⁄2 a sweet potato (peeled and sliced)
1 tablespoon extra virgin olive oil
2 cups Silk Unsweetened Cashewmilk
1 tablespoon Minced Garlic
1 teaspoon shredded fresh ginger root
1⁄2 cup ginger molasses cashews* (recipe below)
Instructions
Preheat oven to 425 degrees.
Line carrots and sweet potato in a single layer on a baking sheet. Brush with olive oil and sprinkle on sea salt. 
Roast/bake for 30 minutes. 
Set aside one carrot and one slice of roasted sweet potato to use as a soup topper. Combine the rest of the roasted carrots (cut in half), sweet potatoes, cashewmilk, garlic, ginger, and lime juice in a high speed blender. (I have a blendtec and used the hot soup function). Make sure your lid is on tight!
Pour the blended mixture into a medium stockpot and then stir in the coconut milk. Let the soup warm up over medium heat for approximately 5 minutes. 
Serve hot with fresh basil leaves, the roasted veggies you set aside in step 4, and ginger molasses cashews. 
Yields 4 Servings