Coconut Cloud Chocolate Cookies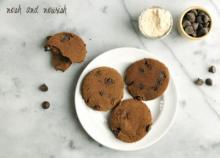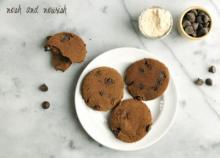 Description
Coconut Cloud Chocolate Cookies // via Nosh and Nourish #paleo #recipe #dessert #grainfree #glutenfree #nutfree
Ingredients
4 tablespoons Coconut Cloud powder*
1 tablespoon Melted Coconut Oil
1⁄2 cup Dark Chocolate chips (use Enjoy Life dairy-free choc chips if you want to keep paleo)
Notes
*You can order the Coconut Cloud powder here.
**Alternative flours like coconut flour can be a bit finicky to bake with... so be sure to follow the recipe and instructions exactly!
Instructions
In a large mixing bowl, whisk together the Coconut Cloud powder and the warm water. 
Add in all remaining ingredients, except for the chocolate chips. Stir until thoroughly combined. Finally, gently stir in chocolate chips. 
Refrigerate dough for at least one hour. 
Preheat oven to 350 degrees. 
Roll out dough between 2 pieces of parchment paper. It's too sticky to roll without the paper. 
I used small mason jar lids to cut out perfect circles, but you can use whatever cut-outs you want. 
Bake for 16 - 18 minutes, or until lightly browned and not super mushy. 
Allow to cool / harden before you devour them.
Yields 18 Cookies
Nosh and Nourish