Christmas Cookie Dough Balls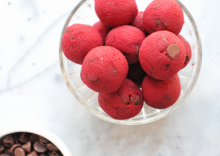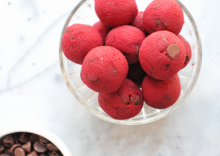 Description
Christmas Cookie Dough Balls --- that you can eat raw because there's no eggs! // via Nosh and Nourish
Ingredients
1⁄2 cup organic strawberry jam
2 tablespoons Silk Unsweetened Cashewmilk
1 tablespoon Olive Oil (or coconut oil would work)
1 teaspoon Vanilla Extract
1 cup Chocolate Chips (I used dairy-free dark chocolate chips)
Notes
NOTE: You can also bake these into regular cookies, instead of just eating the dough on its own. If you prefer actual cookies, flatten the balls onto a cookie sheet. Then, bake them for 20 minutes at 375 degrees, or until lightly browned.
Instructions
Preheat oven to 425 degrees.
Cut off the beet bulb and peel it. Your hands WILL get pink!
Put the beet in a baking dish and top it with 1 tsp of coconut oil. Roast it in the oven for 45 minutes, then let it cool. You can speed up the cooling process by putting it in the fridge or even the freezer for a few minutes.
Combine the roasted beet, the organic strawberry jam, the coconut sugar, olive oil, cashewmilk and the vanilla extract in a high powered blender. Blend until smooth. Pour the mixture into a medium mixing bowl.
Add in the dry ingredients to the blended mixture: almond flour, coconut flour, sea salt, and chocolate chips. Stir until mixed completely.
Put the dough in the fridge for 30 minutes, then take it out and roll 1.5 inch balls.
Enjoy! And store any leftovers in the fridge for up to 3 days, or the freezer for up to a month.
Yields 30 Balls
Nosh and Nourish