Chocolate Covered Strawberries Bread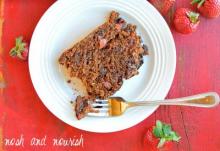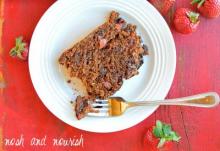 Description
Chocolate Covered Strawberries Bread
Ingredients
1⁄2 cup Diced Kale (stems removed)
2 tablespoons Coconut Oil
3⁄4 cups Vanilla Almond Milk
8 tablespoons Butter (one stick)
2 cups Unbleached All-Purpose Flour (or sub whole wheat pastry flour)
4 tablespoons Cocoa Powder
1 tablespoon Baking Powder
2⁄3 cups Coconut Sugar (or sub light brown sugar)
3⁄4 cups Diced Strawberries
1 cup Dark Chocolate chips
2 Strawberries (to slice and lay on top of bread)
1⁄2 cup Dark Chocolate chips (to put on top of the bread after it has baked)
1 teaspoon Vanilla Almond Milk (to melt in with the chocolate to put on top)
Instructions
Preheat oven to 375 degrees.
Melt coconut oil over medium-low heat in a skillet. Add in diced kale and saute for approximately 5 minutes, stirring frequently. It should not get brown at all.
Combine all ingredients, except chocolate chips in a medium mixing bowl. Stir thoroughly. 
Gently stir in chocolate chips.
Use non-stick spray to coat a loaf pan. Then, pour in batter.  Top batter with thinly sliced strawberries. 
Bake for 70 minutes, or until a knife comes out clean. Let cool for one hour before slicing.
Melt 1/2 cup chocolate chips with 1 tsp vanilla almond milk over low heat. Then drizzle the chocolate mixture on top of cooled loaf.
Yields 1 Loaf