{CHOcolate Chip Banana Bread}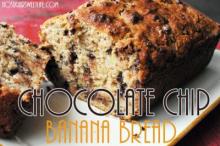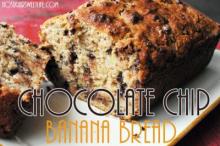 Description
Chocalate Chip Banana Bread made with Greek Yogurt // @noshandnourish
Ingredients
1 1⁄2 cup Whole Wheat Pastry Flour
3 tablespoons Whote Wheat Pastry Flour
1 1⁄2 teaspoon Baking Powder
1⁄2 cup Brown Sugar (or sub Honey)
1⁄2 cup Mini Chocolate Chips
3⁄4 cups Greek Yogurt (I used Chobani's Vanilla Chocolate Chunk)
Instructions
Preheat oven to 350 degrees.
Mix together dry ingredients in one bowl.
Smash bananas and mix with remaining wet ingredients in a separate bowl.
Mix dry and wet ingredients together.
Spray a loaf pan and pour in batter.
Bake for 45 minutes.
Take out and let cool for 20 minutes.
Slice, enjoy, drool.
Yields 1 Loaf