Chocolate Cherry Banana Bread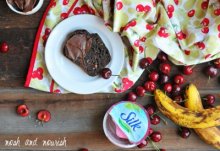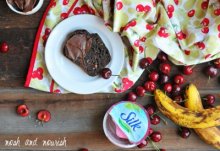 Description
Chocolate Cherry Banana Bread -- so decadent, summery, and delish! // via Nosh and Nourish
Ingredients
1 teaspoon Vanilla Extract
5 1⁄3 ounces Silk Black Cherry Yogurt Alternative (or sub cherry Greek yogurt)
1 cup diced cherries (pits and stems removed)
2 tablespoons Cocoa Powder
1 1⁄2 cup White Whole Wheat Flour (I used King Arthur's)
3 tablespoons White Whole Wheat Flour (this is in addition to the 1.5 cups!)
1 1⁄2 teaspoon Baking Powder
Notes
To make this bread gluten-free, sub in quinoa flour in place of the white whole wheat flour.
Instructions
Preheat oven to 375 degrees.  
In a large mixing bowl, mash bananas with a fork until they are gooey and liquid-like.
Add eggs, vanilla, honey, and the yogurt. Whisk until everything is well combined and there are no lumps. Then stir in the cherries.
Slowly stir in the dry ingredients: cocoa powder, whole wheat flour, baking powder, and sea salt and mix until just combined. 
Pour batter into a greased loaf pan and distribute evenly.
Put into the oven and bake for 60 - 70 minutes, or until the top is golden brown and a toothpick comes out clean.
Let it cool for at least an hour. I prefer to let the bread cool completely and refrigerate overnight before slicing.
Schmear with chocolate nut butter (optional, but HIGHLY encouraged!).
Yields 1 Loaf