Chinese Chopped Salad + Orange Sesame Dressing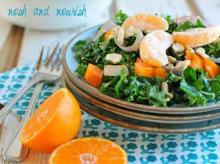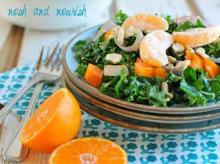 Description
Chinese Chopped Salad + Orange Sesame Dressing // via Nosh and Nourish
Ingredients
1 thick slice (round) red onion
1 tablespoon Dark Amber Maple Syrup (or sub honey if not strictly vegan)
8 cups de-stemmed kale (diced)
2 Clementines (peeled and separated into slices)
1 tablespoon white sesame seeds (toasted)
1⁄2 Orange Bell Pepper (diced)
1⁄4 cup Clementine juice (for the dressing)
1 tablespoon rice vinegar (for the dressing)
1 tablespoon Dark Amber Maple Syrup (for the dressing - or sub honey if not strictly vegan)
1 tablespoon Sesame Oil (for the dressing)
1⁄8 teaspoon Ground Ginger (for the dressing)
1⁄2 tablespoon Cornstarch (for the dressing)
Instructions
In a skillet over medium heat, sauté the sliced onion with maple syrup for approximately 8 minutes, flipping halfway through. The rings do not need to stay intact. However, you do want the onions to caramelize and get slightly brown, but not burn. 
Combine the sesame oil and kale in a large mixing bowl. Gently massage the oil into the kale leaves by hand for approximately 2 minutes. This helps reduce the bitterness and soften the texture of the kale. Add in the remaining salad ingredients, including sautéed onion. 
In a separate bowl, combine all dressing ingredients and whisk to blend. 
Toss dressing over salad (you may not need all of it) and mix thoroughly.
Yields 3 Servings