Chili Lime Salmon Tacos w/Corn Salsa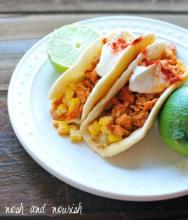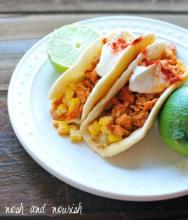 Description
Chili Lime Salmon Tacos w/Corn Salsa // via Nosh and Nourish
Ingredients
2 tablespoons fresh lime juice
12 ounces wild-caught salmon (thawed if frozen)
2 cups Sweet Kernel Corn (for salsa)
4 tablespoons Diced Green Chiles (for salsa)
2 tablespoons ranch (for salsa)
1 teaspoon sriracha (for salsa)
8 flour tortillas (for serving)
1⁄2 cup Plain greek yogurt (for serving)
1 avocado, cubed (for serving)
Instructions
In a medium skillet over medium heat, melt coconut oil. 
Add in the minced garlic, honey, chili powder, lime juice, soy sauce, paprika, and sriracha. Stir until thoroughly combined.
Add in salmon. Let cook for approximately 4 minutes on one side, then flip the salmon and cook for another 3 - 4 minutes. The salmon should be opaque and not translucent when finished.
Use a spatula or serving spoon to break apart the salmon into tiny diced pieces. Stir to make sure fish is thoroughly coated with the sauce. Remove from heat.
Combine all salsa ingredients in a small bowl: corn, green chiles, ranch, and sriracha. 
Serve with the cooked salmon, flour tortillas, greek yogurt, and avocado (optional).
Yields 8 Tacos