Chicken Pesto Zoodle Soup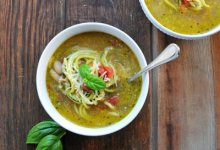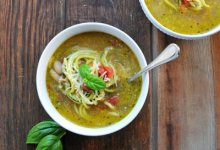 Description
Chicken Pesto Zoodle Soup -- a hearty Italian soup full of veggies and protein your family will love! // via Nosh and Nourish
Ingredients
1 pound Chicken Breasts (diced)
1 1⁄2 tablespoon Olive Oil
1⁄2 tablespoon Minced Garlic
1⁄2 tablespoon Montreal Chicken Seasoning
64 ounces Chicken broth (or stock)
15 ounces can of organic cannellini beans (rinsed and drained)
15 ounces Diced Tomatoes (I used Muir Glen tomatoes with garlic & onion)
1⁄3 cup diced roasted red peppers
1 Zucchini (spiralized into noodles -- approximately 2 cups)
1⁄4 teaspoon black pepper
Parmesan Cheese (optional - to adorn)
Instructions
In a large stockpot over medium high heat, heat up olive oil. Then add in the chicken, garlic, and Montreal chicken seasoning. Saute for approximately 8 minutes until chicken is cooked through, lightly browned, and no longer pink inside. 
Then, add in the remaining ingredients (except for parmesan cheese). 
Simmer on medium heat for 20 minutes. 
Adorn with parmesan cheese and fresh basil (optional). 
To make each parmesan provolone grilled cheese, you'll need 2 pieces of bread, a bit of butter, one slice of provolone, and a handful of shredded parmesan. Cook in a small pan over medium low heat for a few minutes on each side to get a nice golden brown and the cheese to melt. 
Yields 6 Bowls