Chicken Parmesan Meatloaf
Description
Chicken Parmesan Meatloaf // @noshandnourish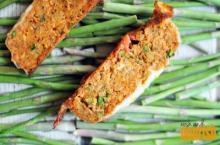 Ingredients
1 package
McCormick's Gourmet Sweet Basil & Oregano Bruschetta Chicken Marinade (dry packet)
2 cups
Crushed Italian Crackers (or sub regular breadcrumbs)
2 cups
Spaghetti Sauce (I used Classico, but you can use your fav)
1 cup
Shredded Italian Cheese (I used a blend, but you could sub plain mozzarella)
6 slices
Provolone Cheese (to melt on top)
Notes
**This recipe makes enough for TWO full meatloaves. You can cook one and freeze the second half... or bake both -- though cooking two at one time will affect the cooking times.
Instructions
Preheat oven to 350 degrees.
Mix together all ingredients, except for the slices of provolone.
Form into a rectangular loaf.
Place the loaf on a greased cookie sheet.
Bake for 40 minutes.
Then, add on 6 slices of provolone to cover the top completely.
Bake for an additional 6 - 8 minutes, until cheese is slightly browned and bubbly.
Yields 16 Servings