Chicken and Butternut Squash Dinner with Maple Dijon Sauce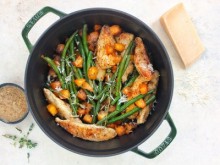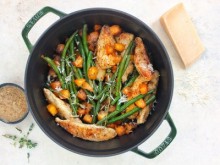 Description
Chicken and Butternut Squash Dinner
Ingredients
2 tablespoons Dijon Mustard
1⁄4 teaspoon ground pepper
5 tablespoons Butter (divided)
1 tablespoon fresh thyme (plus additional sprigs for garnish if desired)
1 teaspoon chopped fresh sage
1 teaspoon Sea Salt (divided)
1 teaspoon ground eppper (divided)
1 pound Cubed Butternut Squash (we like to buy it pre-packaged and it usually comes in a 1 lb container)
1 1⁄2 pound boneless chicken breasts
1⁄8 cup flour of choice (all purpose or even almondmeal will work)
1 tablespoon poultry seasoning (Kelly loves Montreal chicken seasoning)
freshly grated parmesan cheese (if desired)
Instructions
Start off by making sauce ahead of time (then it is out of the way and done!). Make sauce by combining: chicken broth, mustard, maple syrup, honey and pepper in a small bowl until well-combined.
In a small saucier, heat olive oil over medium heat, add garlic and cook for approximately 45 seconds. Then, whisk in the chicken broth mixture (above) and bring to a boil. Simmer sauce until thickened (3- 5 minutes) then remove from heat and set sauce aside.
In a large pot or skillet brown 4 tbsp of butter: allow butter to melt slowly, whisking it constantly. It should foam up and become fragrant. Once butter is browned and smells nutty, immediately remove pot/skillet from heat.
Once off heat, add in garlic, thyme, oregano, paprika, sage and only 1/2 tsp each salt and pepper. Whisk spices into browned butter until well-combined.
Next, add the cubed squash to the pan (still off heat), and stir to coat completely, then place your pot back on the stovetop over medium heat.
Cook squash allowing them to brown a little on the side. After cooked approximately 5- 7 min. add green beans to pot and toss a bit more to combine.
Cover your pot and reduce heat to low. Continue cooking vegetables another 7 minutes or so. You want your squash to be fork tender and your beans to be cooked, but still crisp.
While your vegetables cook (above), start prepping your chicken: cut chicken breasts in half and then into smaller strips (as shown), cutting them as close in size as you can to keep their cooking time the same. Then make coating: combine flour, poultry seasoning and the remaining 1/2 tsp each salt and pepper.
Take chicken strips and dip them in the flour mixture, coating on all sides. Then set aside.
Go back to the pot/skillet with your vegetables and carefully transfer the squash and beans to a plate and cover.
Now, take remaining 1 tbsp of butter and place in pot. No need to clean pot at this step – the remaining flavors/bits will help the chicken flavor! Melt butter and then immediately start cooking chicken strips in pot. Cook, turning strips as needed to brown on both sides. Continue cooking until chicken is fully cooked through and browned.
Add squash and beans back into pot/skillet, then top with additional salt and pepper to taste and Parmesan, as desired.
Reheat sauce if desired (not necessary though), then spoon over chicken and enjoy!
Yields 6 Servings