Cauliflower & Quinoa Cheesy Breadsticks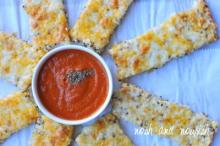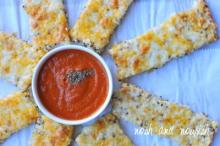 Description
Cauliflower & Quinoa Cheesy Breadsticks // via Nosh and Nourish
Ingredients
1 head of organic cauliflower (leaves removed)
1⁄2 cup quinoa flour (or sub regular)
1 cup Italian Cheese (or sub Daiya mozzarella shreds to keep dairy-free)
1⁄2 teaspoon dried oregano
1⁄4 teaspoon Garlic Powder
1 1⁄2 cup Italian Cheese (for topping)
1 cup marinara (for dipping)
Instructions
Finely chop a head of cauliflower in a blender (or a food processor will work too). I did about 1/4 of the cauliflower at a time.
Put the chopped cauliflower into a square 9x9 glass pan that is microwaveable. Do not add water.
Microwave on high for 8 minutes.  ((or bake for 40 minutes at 425 degrees if you want to avoid the microwave))
Let the cauliflower cool for about 10 minutes. 
Preheat the oven to 375 degrees.
Spoon a large scoop of the cooked cauliflower into a cotton tea towel. And squeeze out as much liquid/water as you can. Warning -- the liquid will be hot! Be careful. Continue this process until all of the cauiliflower is squeezed. 
In a large mixing bowl, combine the squeezed cauliflower, the quinoa, the quinoa flour, the eggs, 1 cup of cheese, and all of the spices. Stir thoroughly. 
On a parchment-lined baking sheet, press the cauiliflower mixture into a flat even rectangle.
Bake for 35 minutes, until the top and edges are starting to get golden brown. 
Take it out of the oven and top it with the remaining cheese. Then bake it for an additional 8 minutes, until cheese is melted and bubbling.
Cut it into sticks, and serve hot with warmed marinara.
Yields 12 Breadsticks