Carrot Cake Butterscotch Bark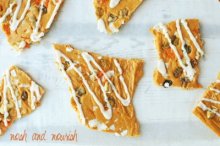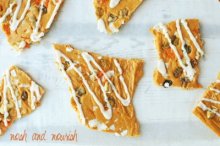 Description
Carrot Cake Butterscotch Bark --- such a delicious, easy dessert recipe! // via Nosh and Nourish
Ingredients
24 ounces butterscotch chips*
1⁄2 cup super finely shredded carrots
1 teaspoon Vanilla Extract
1⁄4 cup golden raisins (to press on top of the bark)
1⁄4 cup Coarsely Chopped Walnuts (to press on top of the bark)
1⁄4 cup unsweetend coconut shreds (to press on top of the bark)
1⁄4 cup super finely shredded carrots (to press on top of the bark)
1⁄4 cup Cream Cheese (for the icing - you can use Daiya dairy-free cream cheese to keep vegan)
1⁄4 cup cashewmilk (for the icing - optional)
1 teaspoon Vanilla Extract (for the icing - optional)
2 cups Powdered Sugar (for the icing - optional)
Instructions
Melt the butterscotch chips in the top of a double boiler or in a stainless steel mixing bowl set over a pot of simmering water (make sure the bottom of the bowl doesn't touch the water). Approximately 5 minutes, stirring continually.
Once they are melted completely, stir in the cream cheese, carrots, vanilla, and cinnamon. Mix thoroughly.
Pour the mixture onto a baking sheet lined with parchment paper. Use a spoon to flatten and level the mixture.
Sprinkle the golden raisins, walnuts, coconut shreds, and additional shredded carrot evenly over the top, pressing everything down gently with your hand or the back of a spoon.
Cool for 1 hour in the refrigerator.
Meanwhile, combine the icing ingredients (a totally optional addition!) in a small bowl. I added it to a small bottle, like a condiment bottle that you might see ketchup in at a picnic, so that I could get nice thin even lines for the icing.
Cool for 1 hour in the freezer, then break apart into pieces and enjoy!
Store in an airtight container in the freezer.
Yields 18 Servings