{Caramelized Onion & Grilled Peach Pizza}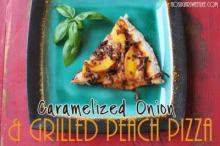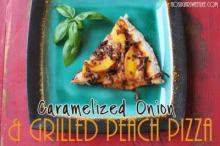 Description
Caramelized Onion and Grilled Peach Pizza on a homemade crust | No Sugar Sweet Life
Ingredients
1 tablespoon Active Dry Yeast
1 tablespoon Sugar (activates yeast!)
4 1⁄2 cups Flour (all purpose)
1⁄2 tablespoon Dry Ranch Mix
1⁄2 tablespoon Minced Garlic
1 Jar of Pizza Sauce (I used Classico)
16 ounces Mozzarella Cheese (fine)
Notes
Original Pizza Dough recipe found here.  I added the oregano & ranch for extra flavor.
Instructions
Combine olive oil, active dry yeast, sugar, and salt in a bowl.
Warm 2 cups of water in the microwave until 115 degrees (~45 seconds).  Take temperature with a meat thermometer. If too hot, wait 'til it cools down to 115, or replace some of the hot water with cold.
Mix the 115 degree water into the bowl.
Let sit on the counter for 15 minutes until it starts to foam.
Add in flour, oregano, and ranch mix.
Stir until smooth.
Roll the dough in a lightly oiled bowl.
Refrigerate for at least 4 HOURS.
When ready to make the pizzas, take the dough and split it in half (it makes 2 pizzas).
Knead and roll each dough ball to the desired thickness on a floured surface. *It expands while cooking, so make sure to make it flat enough to start. 
Roll up edges slightly, and brush with olive oil. 
Carmelize onions on medium heat, approximately 20 minutes. Add in garlic for last 5 minutes.
Preheat oven to 450 degrees.
Spread a thin layer of pizza sauce onto pizza.
Top with Mozzarella Cheese.
Slice peaches and spread out over cheese.
Top with carmelized onions and basil leaves.
Bake for 18 - 20 minutes on a pizza stone, or until browned.
Yields 6 Servings