Butterscotch Pumpkin Bark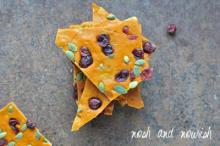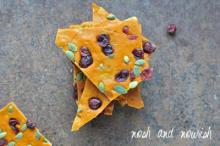 Description
Butterscotch Pumpkin Bark -- a super fun, fall treat! // via Nosh and Nourish
Ingredients
3 cups butterscotch chips (I used a dairy-free variety made by King David)
2 tablespoons Sprouts' Maple Pumpkin Butter
1⁄2 cup Pistachios (coarsely chopped or crushed)
1⁄3 cup Sprouts' dried organic cranberries
1⁄8 cup pepitas ((aka. pumpkin seeds))
Instructions
Melt the butterscotch chips and pumpkin butter in the top of a double boiler or in a stainless steel mixing bowl set over a pot of simmering water (make sure the bottom of the bowl doesn't touch the water). Approximately 5 minutes, stirring continually.
Once they are melted completely, stir in the crushed pistachios.
Pour the mixture onto a baking sheet lined with parchment paper. Use a spoon to flatten and level the mixture.
Sprinkle the dried cranberries and pepitas evenly over the top, pressing them down gently with your hand or the back of a spoon.
Cool for 1 hour in the refrigerator, then break apart into pieces and enjoy!
Store in an airtight container in the refrigerator.
Yields 10 Servings