Butternut Chickpea Greek Tacos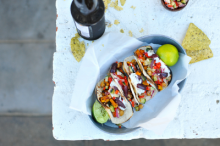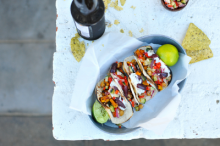 Description
Roasted Butternut Squash & Chickpea Greek Tacos - vegetarian, colorful, vibrant, and delish! // via Nosh and Nourish
Ingredients
10 ounces frozen cubed butternut squash (or sub ~ 2 cups fresh)
3⁄4 cups organic chickpeas (rinsed and drained)
1 tablespoon extra virgin olive oil (or sub avocado oil)
1⁄2 tablespoon Greek seasoning (I get mine at WholeFoods*)
1⁄4 cup diced peppadew peppers (a tangy round red pepper found in the olive bar at grocery stores)
1⁄2 cup Good Foods' Feta Cucumber Dip
8 small corn tortillas (or sub flour, whichever you prefer)
Instructions
Preheat the oven to 425 degrees.
On a greased or aluminum-lined baking sheet, lay the butternut squash cubes and chickpeas in a single layer. Brush the olive oil on top, then squeeze the lime juice and sprinkle the Greek seasoning. 
Bake for 30 minutes, or until lightly browned.
Meanwhile, combine the peppadews, cucumber and red onion in a small bowl. 
Slice or dice the kalamata olives, removing the pits.
Briefly bake or pan-fry the tortillas to warm them up, then assemble the tacos: a spoonful of the butternut and chickpeas, a spoonful of the peppadew salsa, a dollop of the feta dip, and a few slices of olive. 
Yields 8 Tacos