Buffalo Cranberry Grilled Cheese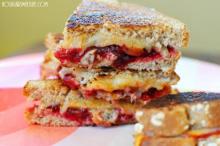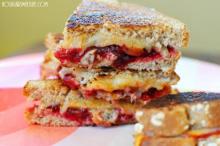 Description
Buffalo Cranberry Grilled Cheese // @noshandnourish
Ingredients
4 slices Oatnut Bread (or your favorite sandwich bread)
4 slices Buffalo Monterey Cheese
2 Chicken, Apple, Gouda Sausages (could sub leftover turkey!)
Instructions
Spread 2 Tbsp cranberry pumpkin relish on one side of bread.
Lay 2 pieces of buffalo cheese on the other side.
Cook chicken sausages in the microwave, approximately 1 minute.
Slice the chicken sausage into thin "rounds" and layer them over the cheese.
Put sandwich together, and spread a bit of butter on the outsides.
Grill the sandwich over medium low heat, until cheese is melted and bread is browned.
Diggeth inneth!
Yields 2 Servings