Bruschetta Quinoa Sliders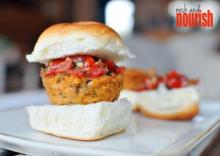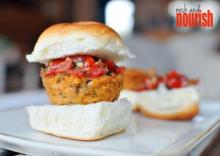 Description
Bruschetta Quinoa Sliders // @noshandnourish
Ingredients
1 can Great Northern Beans (drained)
1 1⁄2 cup Cooked Quinoa (I used rainbow)
1⁄2 cup Diced Tomatoes (I used Grape Tomatoes)
2 tablespoons McCormick's Tomato/Basil Marinade
2 tablespoons Tube Basil (sold in the produce section)
1⁄2 cup Oat Flour (or sub other kind of flour)
Bruschetta (see full recipe below -- for topping)
Instructions
Cook quinoa, if not already done. Mine cooks 1 cup quinoa to 1 1/4 cup boiling water for 14 minutes. Make sure to thoroughly rinse quinoa before cooking!
In a medium bowl, mash a can of great northern beans (rinsed and drained) with a fork.
Then add in all other ingredients, mixing thoroughly.
Preheat oven to 350 degrees.
Generously spray 2 muffin tins with non-stick spray.
Scoop a medium spoonful into each muffin cup, flattening each "patty" out with the spoon.  Make 24 so they're thinner than the ones pictured above (I made 12 extra thick ones).
Bake for 30 minutes.
Serve on slider buns with a scoop of bruschetta (recipe below).
Yields 24 Thin Sliders