Brownie Batter Zucchini Muffins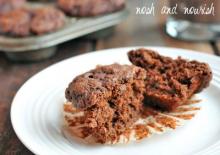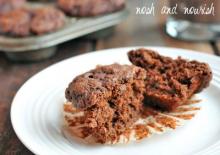 Description
Brownie Batter Zucchini Muffins // via Nosh and Nourish #healthy #decadent #vegan
Ingredients
2 tablespoons Ground Flax*
6 tablespoons Warm Water*
1 cup Finely Shredded Zucchini (peeled first)
1⁄2 cup Dark Chocolate Almond Milk
3⁄4 cups Sugar (coconut or white)
1 3⁄4 cup Unbleached All Purpose Flour
1 tablespoon Baking Powder
6 tablespoons Cocoa Powder
Notes
*Or sub regular eggs (not vegan) instead of the flax eggs.
**The batter is very thick, but bakes up perfectly! So don't be alarmed.
Instructions
Preheat oven to 375 degrees.
Combine flax and warm water. Then refrigerate for 15 minutes. 
Combine all ingredients (including chilled flax mixture) into a medium mixing bowl.
Use non-stick spray or coconut oil to grease a muffin tin. 
Fill the muffin cups 3/4 full with muffin batter.
Bake for 25 minutes. 
Smear with vegan butter or your favorite nut butter (optional).
Yields 12 Muffins