Description
Broccoli Cheddar Soup lunchbox ideas | easy school lunch | superfood weeknight meals | superfood broccoli soup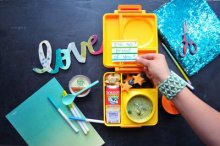 Ingredients
1 tablespoon
extra virgin olive oil
4 cups
fresh baby spinach
4 cups
Broccoli (cooked and divided)
1 cup
Cooked Quinoa (or use the quinoa/lentil blend from p. 18 of my cookbook!)
1 quart
organic chicken broth (or sub veggie broth to keep vegetarian)
1 tablespoon
Minced Garlic
1 teaspoon
Worcestershire Sauce
1⁄4 teaspoon
onion powder
2 cups
Horizon Organic Cheddar Shredded Cheese (plus more for garnish)
1⁄4 cup
Plain greek yogurt
Notes
*for the lunchbox: serve with cantaloupe, fresh blueberries, milk, and peanut butter crackers (optional)
Instructions
In a large pan over medium heat, heat the olive oil. Add the spinach and sauté for about 5 minutes, or until soft and wilted, but not brown. Transfer to a blender.
To the blender with the spinach, add 2 cups (142 g) of broccoli, the Quinoa-Lentil Blend, chicken broth, almond meal, garlic, Worcestershire sauce, onion powder, and sea salt. Blend until smooth.
Pour the blended mixture into a large stockpot over mediumhigh heat.
Coarsely chop the remaining 2 cups (142 g) of broccoli and add it to the stockpot. Stir in 2 cups (225 g) of Cheddar cheese, the yogurt, and butter. Heat for 10 minutes, or until the cheese has melted completely.
Serve with the bread for dipping and top with more Cheddar cheese (if using).
Yields 6 Servings