Broccoli and Edamame Bowls with Sesame Rice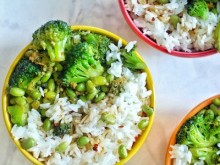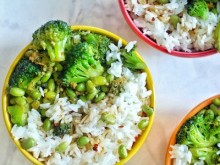 Description
Broccoli and Edamame Bowls with Sesame Rice
Ingredients
1 1⁄2 cup uncooked jasmine rice (or 3 cups cooked)
1⁄4 cup Diced Yellow Onion
1 tablespoon Minced Garlic
1 1⁄2 teaspoon Minced Ginger
1 tablespoon Olive Oil (or avocado oil)
3 Heads of Broccoli (florets only, approximately 8 - 9 cups)
1 1⁄2 cup organic shelled edamame
1⁄8 cup honey (for the sauce)
1⁄3 cup tamari (for the sauce)
1 tablespoon red wine vinegar
1⁄2 tablespoon all purpose flour (*use a GF version to keep the meal GF)
1⁄2 teaspoon crushed red pepper flakes (+ more for finished meal, if desired)
Instructions
• Start off by cooking your rice according to package instructions. Once cooked, remove from heat, stir in sesame oil and set aside. *If you/ your family likes more rice, feel free to cook 2 cups instead.
• Then, prep all your produce – chop onion, mince garlic and mince ginger. Also cut all florets off of your broccoli heads – you should have approximately 9 cups of broccoli florets total (a little more or less is fine).
• Next make your sauce by combining the following: honey, tamari, vinegar, flour and red pepper flakes in a small bowl. Whisk until well combined. Set aside.
• Using a large wok or skillet sauté your vegetables. Start by heating up oil over medium-heat. Add onion and sauté for about 1 minute until slightly softened. Then add the garlic and ginger and sauté another minute.
• Next, add in your broccoli florets and about 1/2 cup of water. Cover and cook for approximately 3 minutes.
• Uncover, add in your edamame and sauté another 2 minutes. Then, pour approximately 1/3 of your sweet sauce into skillet and cook another minute, or until everything is tender and sauce is slightly thickened. Remove vegetables from heat and set aside.
• Plate dish by dividing rice between 4 bowls. Top with broccoli mixture and drizzle bowls with remaining sweet sauce, and additional red pepper flakes and sesame seeds, if desired.
Yields 4 Servings