Breakfast Quesadillas with Chorizo and Root Veggies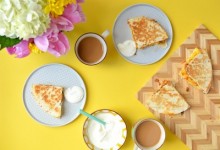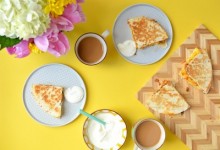 Ingredients
1⁄3 cup grated sweet potato
1⁄3 cup grated purple medley potatoes
1⁄3 cup grated golden beets
6 Horizon Organic Eggs (divided)
3 tablespoons Horizon Organic Milk (divided)
16 ounces Horizon Organic Shredded Monterey Jack Cheese
8 medium tortillas of choice
2 tablespoons Horizon Organic butter
1 cup Horizon Organic sour cream
Instructions
In a large skillet, saute the chorizo for 4 -5 minutes until cooked / warmed through. Stir in grated root veggies and stir for 1 - 2 more minutes. Then, remove from heat and set aside. 
In a medium mixing bowl, crack open 3 eggs and stir in 1.5 tbsp of milk. Whisk until combined. Then, in a small round pan over medium low heat, melt 1 tbsp of butter  (or use non stick spray) and pour the egg mixture into the pan. Cover and cook for 4 minutes. Then, flip the egg and cook for another minute. Set aside on a plate, and repeat with the additional eggs/milk. 
Start assembling/cooking your quesadillas. Butter one side of a tortilla and then place it butter-side down in a medium pan. Sprinkle 1/3 - 1/2 cup of cheese onto the tortilla, then, add one of the egg patties, then a bit more cheese. Then, use a spoon to spread an even layer of the chorizo / root veggie mixture. Finally, top with 1/3 cup more cheese and an additional tortilla with the butter-side up this time. Cook for 3 -4 minutes on the first side (should be golden brown), then carefully flip it over and cook for an additional 2 minutes, unti golden brown. Repeat for the second quesadilla.
Remove from heat, and serve immediately with sour cream and a bit of lime juice.  
Yields 4 Servings