{Bourbon Tilapia w/Baked Sweet Potatoes & Peaches}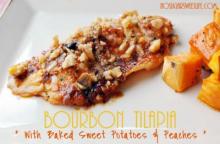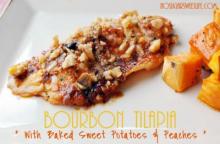 Description
Bourbon Tilapia encrusted with shredded coconut and crushed walnuts, served with baked sweet potatoes and peaches.
Ingredients
1 package McCormick's Brown Sugar Bourbon Marinade
2 tablespoons White Vinegar
4 tablespoons Shredded Coconut
4 tablespoons Crushed Walnuts
Instructions
Peel and cube sweet potatoes.  Toss with 1 Tbsp olive oil.
Start baking the sweet potatoes in a large casserole dish at 375 degrees for half an hour while you prepare everything else (total cook time for potatoes is one hour!)
Shred Coconut
Crush Walnuts
Slice Peaches
Prep Marinade - Mix dry marinade with 2 Tbsp water, 2 Tbsp Olive oil, 2 Tbsp Vinegar
Thaw Tilapia (if frozen).
After sweet potatoes have cooked for half and hour, take out the casserole dish. Move the sweet potatoes to the edges. 
Dip the tilapia in the marinade and lay flat in the center of the casserole dish, flat.
Pour remaining marinade on top.
Add sliced peaches around the edges on top of the sweet potatoes.
Bake for an additional 25 minutes, or until thoroughly cooked. 
Take it out of the oven, top the fish with shredded coconut and crushed walnuts. 
Broil for 5 more minutes.
Then, serve and eat!
Yields 4 Servings