Boozy Pina Colada Popsicles
Description
Boozy Pina Colada Popsicles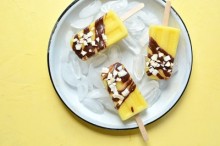 Ingredients
1 1⁄2 cup
Silk Unsweetened Coconutmilk
2 cups
fresh pineapple chunks
50 milliliters
rum (optional - one of the little mini bottles, or ~1.75 ounces)
------------FOR THE CHOC CARAMEL SAUCE----------
1⁄4 cup
Silk Caramel Almondmilk Creamer
1⁄4 cup
powdered monkfruit (or sub coconut sugar)
1⁄2 cup
dark chocolate chunks (72% Cacao, make sure it's dairy-free to keep vegan)
----------FOR TOPPING----------
1⁄2 cup
toasted coconut shreds (optional)
Instructions
Combine the Silk Unsweetened Coconutmilk, pineapple, and rum in a high speed blender. Blend on high until smooth, approximately 60 seconds.
Pour into a popsicle mold.
Freeze for 30 minutes, then add popsicle sticks.
Freeze for another 3 - 4 hours until completely frozen.
If you want to adorn with the caramel sauce, combine the sauce ingredients into a small saucepan over medium-low heat. Stir frequently, melting the chocolate and letting the sauce thicken for approximately 10 minutes. Remove from stovetop and pour the sauce into a widemouth jar or bowl. Cool in refrigerator for ~ 10 minutes.
Lay the popsicles in a single layer on a parchment lined baking sheet.
Use a spoon to drizzle on the caramel sauce, then sprinkle with toasted coconut shreds.
Freeze for an additional 20 minutes. Then, enjoy! Store leftovers in the freezer.
Yields 8 Popsicles