Blueberry Crumble Muffins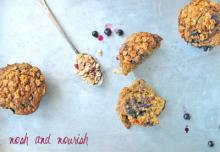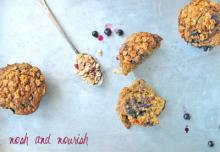 Description
Blueberry Crumble Muffins topped with cobbler granola // via Nosh and Nourish #recipe #dairyfree #vegan
Ingredients
2 tablespoons Ground Flax
1⁄2 cup Chickpeas (rinsed and drained)
1⁄2 cup vanilla almondmilk
4 tablespoons Vegan Butter
1 teaspoon Vanilla Extract
2 cups Unbleached All-Purpose Flour
1 1⁄2 teaspoon Baking Powder
1 cup frozen Cascadian Farm blueberries
6 tablespoons Cascadian Farm granola (for crumble topping)
3 tablespoons Vegan Butter (for crumble topping)
3 tablespoons Coconut Sugar (for crumble topping)
Notes
You can sub regular butter if you prefer.
Instructions
Preheat oven to 350 degrees.
Combine flax and water in a small bowl and refrigerate for 15 minutes.
Combine chickpeas, almondmilk, and vegan butter in a large measuring cup. Then, use an immersion stick blender (or food processor) to puree.
Transfer the puree to a large mixing bowl.  Stir in vanilla, coconut sugar, and the flax mixture.
Combine dry ingredients in a separate bowl: flour, baking powder, and sea salt. Whisk to combine, then stir it into the wet ingredients.
Use non-stick spray or coconut oil to grease a muffin tin. Then, evenly distribute batter into the tin.
Combine the topping ingredients in a small bowl and mix with a fork. Then, evenly distribute a spoonful on top of the muffin batter. Gently press into the batter with the back of the spoon.
Bake for 25 - 30 minutes, until muffins are lightly browned.
Yields 12 Muffins