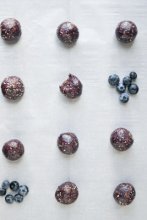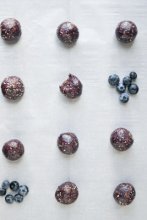 Description
Blueberry Bliss Bites --- the perfect afternoon snack to hold you over until dinner! // via Nosh and Nourish
Ingredients
1 package Nature Valley™ Oats & Honey Granola Bars (each package has 2 granola bars)
3⁄4 cups dried blueberries
3⁄4 cups Raw Cashews (unsalted)
1 tablespoon mixed seeds (I used flax, chia, and hemp)
Instructions
Combine the bars, blueberries, cashews, and seeds in a food processor. Blend for a couple minutes until all of the pieces are tiny. Use a spoon to scrape off the sides and push it down. 
Then, add in the honey, and blend for another minute or two. 
Form into small 1 inch balls, makes approximately 12. 
Eat immediately, or store in the fridge for up to a week.
Yields 12 Balls